Introduction
 New Technology to help Streamline an Unprecedented, Naturally Abundant National Plan:
  The construct on WildLivingSkills.org is being developed into a simple-to-use, highly-advanced website & smartphone app that will help people:
1.) 
identify biological organisms
(plants, shrubs, trees, lichens, mushrooms, grasses, & more)
 quicker than ever within only ~5 
simple questions (by 
co-processing 
the user's
 GPS, 
time-of-year, & elevation).  Touch-&-view glossary terms 
with pictures
 will greatly
 expedite & simplify the species identification process compared to books as well.  (Desktop computers will feature rollover-&-view glossary terms with pictures.)
2.) learn step-by-step instructions with photographs for processing each species for their traditional food, utility, & medicinal uses (Native American skills, generally), as well as firsthand video footage with professionals- such as wilderness survival instructor Richard Lonewolf:
3.) learn ecologically-restorative "Positive-Impact Harvesting Techniques" for every species so that ecosystems see benefit rather than detriment as a result of harvesting.  Our goals include the legalization of these techniques for use throughout public wildlands, & to have them eventually seen as a universally-accepted, ecologically AND socially responsible way for accessing resources; no permits required.
4.) coordinate with forest officials in order to legally bring wildharvested goods from public wildlands to markets.  (Cooperative business models only.)
6.) locate any of Wild Willpower's Bright Green Sponsors that are nearby, & receive a discount or special offer that is only available via WildLivingSkills.org.  (These can be found on the map on the front page of the site.)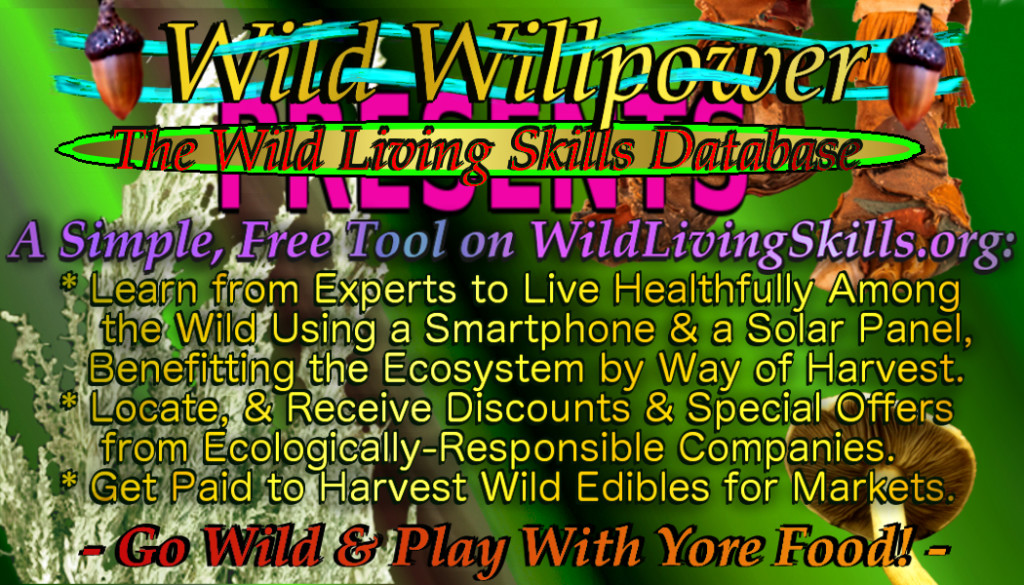 How Wild Willpower's Growing Team Plans to Train & Prepare America's First "Wildharvesting Cooperative"
   Wild Willpower's founder, Distance Everheart, will help a group of people who truly cares about nature, people, animals, & our future to hand-craft outdoor gear that is hands down more comfortable, efficient, & versatile than any outdoor gear currently available on the market.  Here's an initial tour of this very uniquely functional  gear:

   Lake Isabella, California is 2 1/2 hours north of Los Angeles & 5 hours south of Sacramento, about 45 minutes northeast of Bakersfield along Highway 178.
Kern County is an ideal place to begin learning such skills & to model America's first Wildharvesting Cooperative, because all 5 botanical regions in California merge there; there is also sandy ground so the roots dig up easy, short migration trails thanks to quick elevation changes, & the plants & trees are nicely spaced out from one another- so there is no need to "stay on the trail" like in overgrown forests.
All products will only be made available in bulk (preferably) or biodegradable packaging in support of The Zero-Trash Commitment in loving memory of the beloved SJSU Professor Frank Schiavo & for the sake of a better future:
Because the above process will be filmed & embedded throughout our websites (along with much more content as well), other communities will be able to replicate this within the coming years, & our intention is to connect more teachers with more Wildharvesting Cooperatives, & to make the process of doing all this as simple as possible for everyone through these sites.
Wild Willpower Needs Some Vital Resources So We Can Make This All Happen
In order to get as much product on the market at the most affordable price- & to save lots of time- Wild Willpower is currently seeking aid so that we may acquire everything on our list of needed resources.
 For the sake of efficiency, safety, & comfort, we would like to acquire a bus where the industrial equipment can be operated from, & where from where the technology can be kept safe & video footage can be edited & uploaded.
Big Fiscal Impact, with Freedom Intact
Wild Willpower will be ready to begin modeling America's first Wildharvesting Cooperative as soon as we get the equipment.  Because wildharvesting requires little planting, watering, or weeding compared to permaculture, & no pesticides, fungicides, or fertilizers like with industrial agriculture, in only a few short years the United States could be on track to exhibiting a lasting, production-based economy that actually restores & revitalizes native ecosystems within its wake!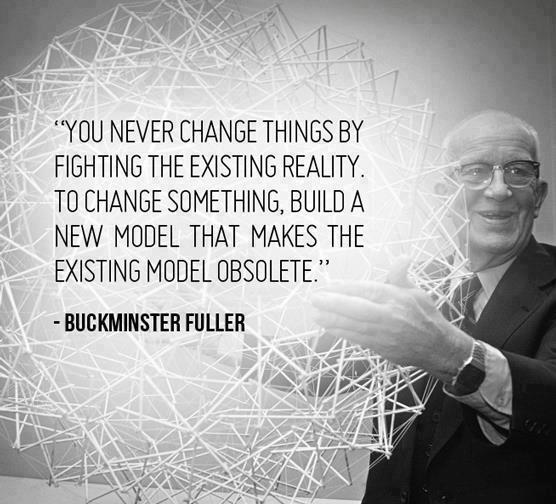 Special thanks to Starfish Intitiatives for the beautiful above graphic!
  This model for acquiring resources for the marketplaces also honours the personal rights of individuals (& peaceable assemblies!) to harvest noncommercially while safeguarding against the exploitation of ecosystems by both individuals & companies.
The Wildharvesting Cooperative business model is one of egalitarianism, & is designed with "greatest public benefit" at it's core; the model in no way leaves room for the possibility of an oligarchy to form amongst its structure.  CEOs in the United States earned an average of 354 times the average worker in 2013; the cooperative business model eliminates the need for a CEO, & thus that same money instead becomes equilaterally distributed amongst the employees- this helps entire communities to prosper!
Peaceable Assemblies are noncommercial factions of individuals, with Constitutional rights, privileges & immunities assumed; peaceable assemblies do not operate under the Uniform Commercial Code, & thus cannot legally be governed under Admiralty Law.  Another benefit of forming a Peaceable Assembly is that they are untaxable organizations under The First Amendment & 1976 Supreme Court ruling, Buckley v. Valeo, where it was officially ruled that "giving money- when used for political reasons- is a form of political expression that is protected under The First Amendment".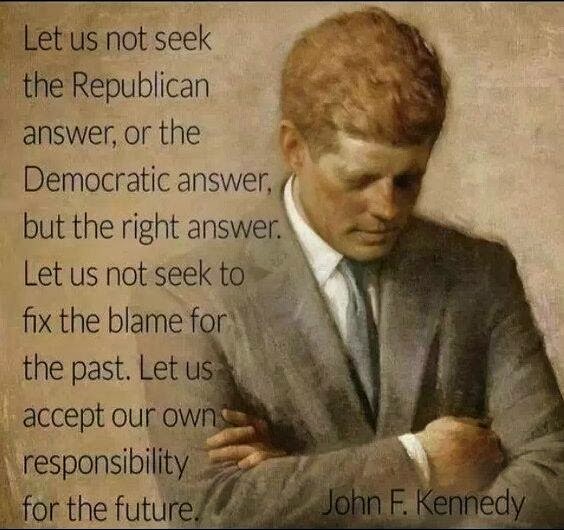 Thank you dearly, Red vs. Blue, for this wonderful commemorative graphic!
   There will soon be a user name & password that will be required to fill out when using WildLivingSkills.org that will require a Terms & Conditions Agreement to be agreed to before being allowed into the site.  This will ensure that anyone using the site will be agreeing to "only offer products in bulk or planet-considerate packaging in support of The Zero-Trash Commitment", "give reference to WildWillpower.org", "promote & promise to use Positive-Impact Harvesting Techniques whenever harvesting", & "only cooperative business models are allowed by users of this site if offering products commercially").
   With the aid of industrial hullers, grain mills, oil presses, & other modern amenities, our nation will soon produce an abundant, drought-resistent & healthy food supply, AND provide millions of healthy outdoor jobs.  Please help Wild Willpower acquire our list of needed resources so that we can get all this happening asap.  Please send tax-deductible donations to adraghastar@gmail.com via PayPal & thank you so much for helping with our much-needed aid!
This tour continues on the front page of OurLandsToo.org: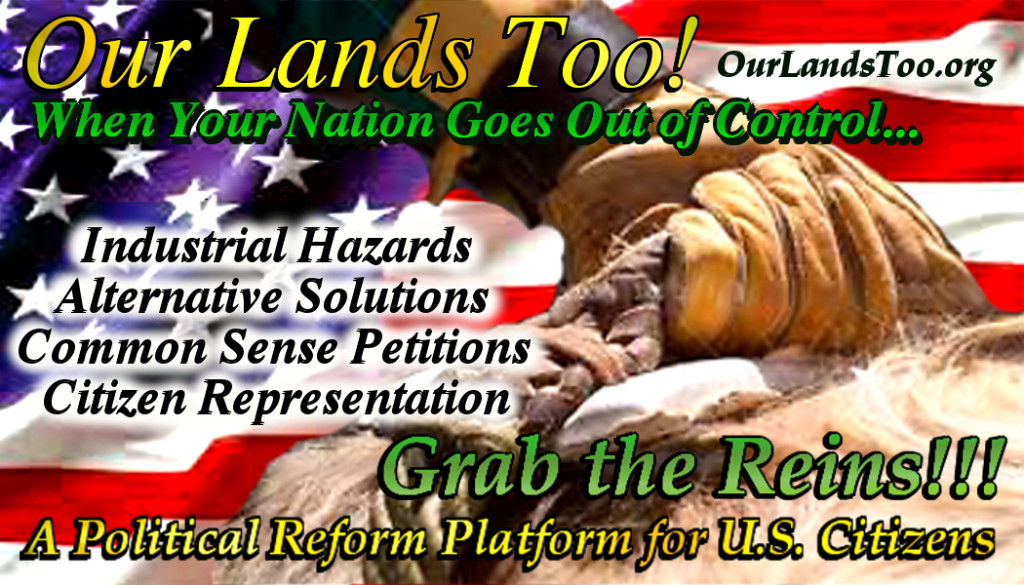 Special Thanks to The Following for their Academic Contributions:
Starfish Initiatives on Buckminster Fuller quote:  http://starfish-initiatives.org/buckminster-fuller-make-the-existing-system-obsolete/
Red vs. Blue on John F. Kennedy quote:  http://redvssblue.blogspot.com/2013/11/killer-john-f-kennedy-quote-gop-and.html
   WildWillpower.org & our project websites are "peaceable assemblies of information (etc.)" that have been "peaceably assembled" by a "peaceable assembly of civilians", & all donations are tax-deductible as protected under The First Amendment & Buckley v. Valeo.