Below is a summary description & link to 3 different websites
which each carry a separate aspect
to an internationally-applicable, historically-relevant national plan

which has never been proposed in the history of The United States

, AND it is coupled by a truly extraordinary
new piece of technology

(3rd website of tour)
.
Part 1: About Wild Willpower
WIld Willpower

, as an organization, considers ourselves

a "peaceable assembly of civilians"

operating

solely

under The First Amendment:
We seek (amongst our consideration

and

political actions) to

assume

that

all

people have

all

of the

rights

,

privileges

,

AND

immunities

which are secured & protected under The Bill of Rights & The Constitution of the United States of America– whose foundation built is constructed

around

&

to

defend

those

assumed

rights–

without

regard

to

race

,

ethnicity

,

religion

,

sexual

orientation

,

gender

, or

amount

of

money

owned

or

able

to

be

produced

. We seek to become officially recognized by the Federal Elections Committee as
For many years Wild Willpower's founder (Distance) has been mapping a very possible trajectory for the future of the United States which in congruence to the spirit of what The Founding Fathers appear to have intended amongst great documents & speeches,

except

with greater

consideration

concerning the well-being, future, & respect to all native nations, tribes,

and

people (& their rights) than what has been explicitly described by those founders, who referred multiple times to native people as "savages".
It is

part

of WIld Willpower's stance that therein the founders erred in that thing, & we see also that The American people have come a long way in bringing the promise of justice & liberty for all, & we, as a Civil-Protection Political Action Committee are

actively

pursuing

to

change

that premise which was founded upon, unjustly,

prejudice

.
We are seeking, via free education & coordinated national effort, to transition The US away from an ecologically-destructive economy, & to work with CEOs, Boards of Directors, government officials, & both commercial

and

non-commercial factions ("peaceably assemblies")

"to get completely sustainable from coast-to-coast", &

we have a plan.
One More Thing Before We Continue:
Wild Willpower seeks to

never

take any stance on

any

political topic in a way which disenfranchises one person or group of persons in order to appease or empower another person(s), and we seek to base all our political strategy & future vision with non-commercial values

and

commercial values in mind, so that there is enough food growing throughout urban areas, for instance, that people will have the

option

to "get a job" rather than be forced by circumstance (ecological scarcity).

We seek to work in a mutually-beneficial way

with corporations, associations, families, & many others who are willing to put the right foot forward & empower the efforts of our non-partisan campaign; corporations, for instance,

should

want to get involved

because

this will help

reduce

taxes

used

to

help

the

needy

AND it will lower weekly grocery costs for families when there is "food growing everywhere".
Also, it is important to have an ecologically-sustainable infrastructure in case of disaster, war, or economic collapse; it is important for our nation to have strong "food security"
.
Instead of relentlessly dumping money into programs to "feed the poor", climate-compatible, non-invasive plants with human uses

("edible, utility, & medicinal uses")

will be grown

everywhere

(reasonably) by

educated

&

well

-

resourced

Civil PACs

.
Not only does Wild Willpower seek to disseminate publications which educate people on
ethnbiology
[

"ethnoecology"–

Native (American) wild living skills & traditional plant uses, mycology,lichen identification, etc.

], but

also

we seek to form bonds with ethnobotany experts, permaculture specialists, solar panel developers, community organizers, peaceable assemblies, & other individuals & associations of "green" ideals in a way which rewards the proponents ("paying them, helping with publication costs & providing them with native heirloom seed packets as "a form of expression" protected under Buckley v. Valeo")

, so long as the proponents are involved in "helping as many people as possible" in "non-commercial manners".
Before We Begin the Tour, We Have a Special Announcement:
Sunday, February 15th
, Distance & wilderness survival & ethnobotany expert, & longtime teacher of Distance, Richard "Lonewolf" Legan, have just finished writing perhaps the most in-depth, all-ages ethnobotany textbook ever built, called
More Valuable Than Gold

, which is currently available via Lonewolf's sole proprietorship, "Richard Lonewolf Survival School"

(www.RichardLonewolf.com).
Distance Everheart
, will be giving a presentation at
The Monterrey Center of Alameda in Alameda
, California beginning
at 3:30 pm
. Please take the below "tour of Wild Willpower" if you have not yet, & then
come join us
at this very special
free
event coming up soon in February–

this is going to be a once-in-a-lifetime event!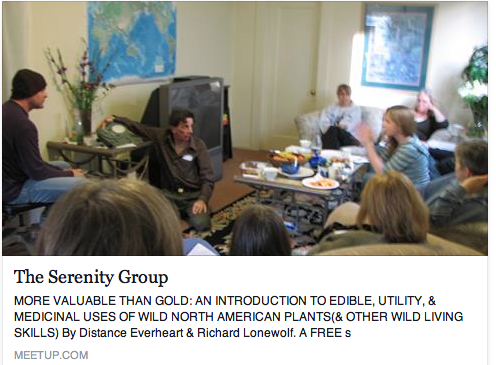 Part 2: A Completely Different Type of National Plan:
Kern River Wildharvesting Cooperative
(KRWC) is set to become "

America's first wildharvesting cooperative

"; we're currently in the process of coordinating with the U.S. Forest Service so that they will permit us to use
"
Positive-Impact Harvesting Techniques
" among the

Sequoia National Forest

in order to harvest wild foods & herbs to make available in markets throughout the state

(California)
.
Everything will be minimally processed & only be made available in bulk sections to help "eliminate waste on the consumer level".
Also, we'll be using traditional Native (American)
wildfire management techniques
while in the forest,

& then
industrial equipment
to help us produce a large enough food supply for market. The forest's health will see benefit rather than detriment due to the use of
Positive-Impact Harvesting Techniques
- so there's nothing to worry about there!
KRWC is about to model something that has never been done before
that has the potential to be replicated all across the nation

AND

beyond;
job applications are now being accepted on the website

.
Employees will be equipped
with
Lonewolf's Survival Kit
as well as
other products
recommended by Richard Lonewolf Survival School:
WildLivingSkills.org
is being made into a free online tool;
a GPS, time-of-year, & elevation-sensitive website and smartphone app
which allows people to identify biological organisms to the species in usually 5 questions or less. In its refined state (projected spring 2015), we expect the site to operate as described HERE.
We are

ALSO

currently in the process of

figuring out

how to make an online version of
Richard Lonewolf Survival School's new outdoors ethnobotanical textbook
available
, except that
unlike
other online books-

purchasing this one will *unlock* the corresponding pages throughout
WildLivingSkills.org
. Please click the below photo to read several of the highly-informative, highly-colorful pages of the new book

written by veteran & founder of

Richard Lonewolf Survival School

and

founder of Wild Willpower & inventor of The Wild Living Skills Database & Smartphone App, Distance Everheart. This is just a fantastic new all-ages textbook that we're all very excited about: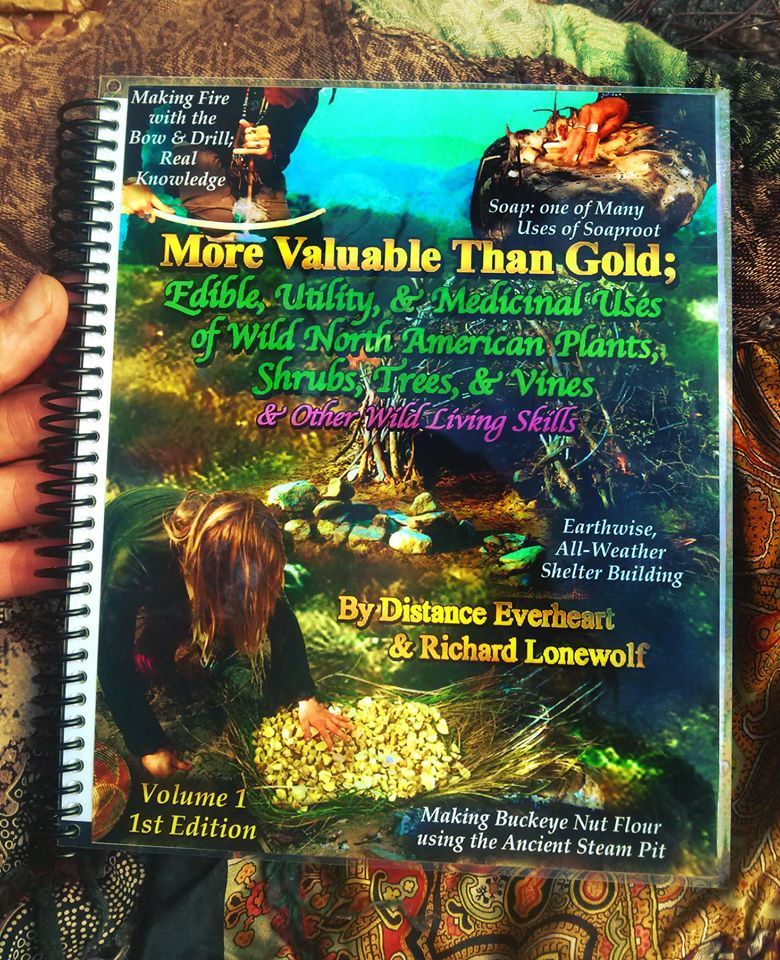 We hope to soon be able to make "online books embedded throughout WildLivingSkills.org" an option available to other authors in the near future as well so that they may also see increased online sales

AND

have their book

help make (more) history (than it already has) by making this amazing new tool (website/app) available planetround.
Website # 4;
WildWillpower.org (this site):
After hitchhiking the USA over 12 years

while privately researching

& writing over 40 songs & street performing to stay alive

,

Wild Willpower's founder has-

as of 1/28/2015-

JUST

finished putting together the plan on this page as you now see it. Here are some words from Distance:
"

During The Great Depression, The Civilian Conservation Corp. (CCC) was developed to put 3 million Americans to work. This

really

is accredited to having helped dig the country out of the depression,

AND

is also how we got many of the hiking trails, rock stairwells, & campsites established throughout our public wildlands. That helped afford us a stronger tourism industry, but tourism is still part of a "service based economy", meaning its not

producing

anything. By supporting Wild Wilpower's "Wildharvesting Cooperatives Across America!" Campaign, together we can help spread vital, real knowledge in order to help steer the nation safely to an ecologically-beneficial,

production based economy

that will lead to prosperity

and

health for people. We should move away from our dependency on overseas labor for our everyday needs, especially when

knowing

that the conditions of the workers are not acceptable. If we want the health of wildlands respected

AND

workers to be treated well, we must design that within our business constructs to begin with, & support the businesses who reflect our intent by use of our earnings. To help other nations become self-sufficient, first we should become self-sufficient ourselves, & live it among our daily lives- wherever possible. Its time to put millions of Americans to work, once again, among our public wildlands so we can fix the food supply &

also

produce ecologically-wiser,

alternative

products to replace those which are only serving to fill landfills with the garbage that they are offered wrapped within.

It is time for ecologically-ethical entrepreneurs to begin developing cooperative business models all throughout the nation, because when the entire society is thriving, then we are all thriving, but when some are wealthy & most are poor, then even the wealthy suffer.

It is time to put our heads together & see what kind of future we can make for our children."
-Distance Everheart, founder of Wild Willpower
The final part of our "ecologically-beneifical plan" is to continue compiling
a

list of native seeds
that people, organizations, business owners, property managers, & others can plant in their gardens, to replace lawns, or around town (etc.) in order to help create "functional biological infrastructures" using "plants with human uses". Political contributions will help Wild Willpower to get these out to as many people as possible– along with a link to WIldWillpower.org– so that our nation can get "on the same page" & coordinate to improve the human condition peaceably & legally using the tools in front of us.
Native plants & trees require very little to no water to grow, they also require very little work in order to get the plants to take–
much simpler than most domestic garden plants– simply throw them around your yard, learn about their uses on WildLivingSkills.org, & tell more people to find us on WildWillpower.org
.
Besides
publications

AND

disseminating our plan "to keep the economy

AND

ecology from crashing", we are

also

seeking to disseminate "native seed packets" to "as many people as possible" so that society can grow "plants with human uses" to "help replace decoratives & water-suckers" (lawns). We'll also
continue weaving WildLivingSkills.org as we acquire more support to help make this happen (to pay programmers, developers, & to acquire our list of needed resources, etc.).
Please donate via PayPal

or

call 415-798-7457 to donate via

Western Union

(until we get our Tax ID number)

:
Please contact

Distance@WildWillpower.org

or call

415-798-7457

if you would like to help us fundraise &/or you'd like to be involved in the future of any or all of these projects.

IF

you'd like to help us acquire ALL our current needs & not just enough to help us cover our debts, please visit our

List of Needed Resources

page to see if you would like to contrib
One more thing please before we present a new free online documentary we peaceably assembled recently:

"

We are

currently seeking a car to be donated to

Richard Lonewolf

due to circumstances beyond our control. "
Okay- here's the new video by
Distance

-
an
hour & twenty minute long film also introduces topics addressed throughout
OurLandsToo.org
- another of our project sites– e
njoy the show & please let people know that you & Wild Willpower have now found one another!!!
Wild Willpower.org & all our project websites have been
peaceable assembled
as forms of First Amendment expression.